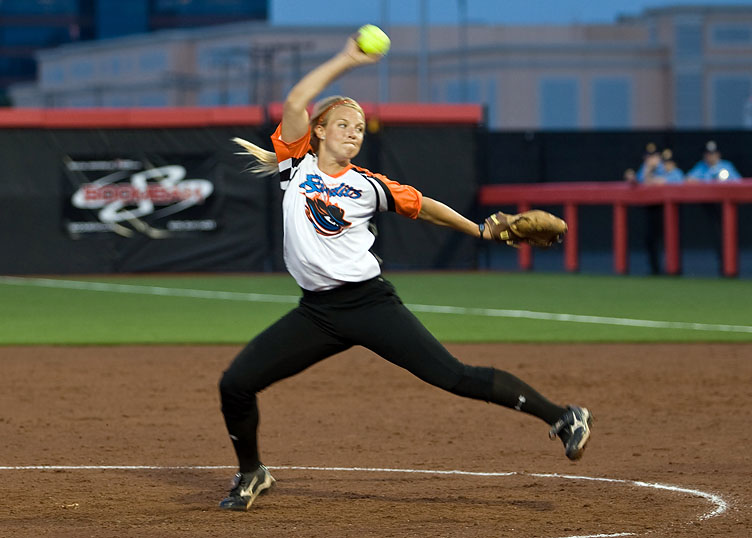 ---
First Choice Softball note: The following is a 2007 article from the Arizona Daily Star. We have reprinted it here with permission from the publisher, as we believe the message is timeless and can be an inspiration to other pitchers facing the "shorter than 6 foot" challenge.
---
Arizona's Mowatt: Above and beyond
By Patrick Finley -Arizona Star (2007 original publication date)
OKLAHOMA CITY — Taryne Mowatt stands 5 feet 6 inches, but she looks taller. She has an extra foot of tenacity.
How else to explain what the UA pitcher did while becoming the Most Outstanding Player in the Women's College World Series?
Mowatt threw 1,035 pitches in eight games over seven days to lead the Wildcats to their second straight WCWS title. She defeated Tennessee's Monica Abbott, a pitcher 9 inches taller who had thrown two fewer games.
In doing so, she might have changed the perception of softball pitchers.
"You know what's so nice, I think, for the game of softball?" UA coach Mike Candrea said. "Everyone thinks pitchers need to be 6-foot. To see a little petite girl throw her (butt) off makes me so proud."
In recent history, dominant pitchers have been bigger. Former Texas star Cat Osterman, widely considered the greatest pitcher in history, is 6-3. So is Abbott, the NCAA's career leader in wins, shutouts, innings pitched, starts, appearances and strikeouts.
Alicia Hollowell, who led the UA to a title last year, is 6-1. Jennie Finch, the 2001 WCWS hero, measures 6 feet tall.
UCLA's Keira Goerl and LSU's Kristin Schmidt — 2003 and 2004 tournament MOPs, respectively — stand 5-10 and 5-9.
While height is listed for softball players, weight does not appear in media guides and is not widely discussed.
"I have little girls come up to me and they're like, 'It's so good to see somebody who's not the biggest person out there,'" said Mowatt, who has played since she was 7. "I just hope little girls think that you don't have to be 6-foot and above to be a main pitcher. You can pitch as long as you want — you just have to work hard.
"I definitely like the fact that you don't have to be 6-3. I think I changed that stereotype a little bit."
She did it at a disadvantage — at least compared to Abbott. The Volunteers' fireballer threw harder than 70 mph from the pitching rubber, located 43 feet from the plate.
But from where the ball is released from her hand, "that's 70 from about 34 feet," Candrea said.
At about 140 pounds, Mowatt puts less body weight behind her pitches than Abbott. But the UA junior proved you don't need to win the radar gun battle to win games.
If Abbott was Randy Johnson, Mowatt was Greg Maddux. Throughout the tournament, she mixed pitches as if she were psychic.
Nancy Evans — like Mowatt, a sub-6-foot pitcher when she won the WCWS in 1997 — called pitches from the dugout.
Hollowell, an undergraduate assistant this year, had a simple explanation for Mowatt's success.
"She has the heart," Hollowell said. "She's a little girl. They make it sound like the stereotypical pitcher has to be tall and lanky, but there are plenty of pitchers who aren't tall but get the job done. Nancy Evans wasn't 6 feet tall."
Mowatt said she couldn't sleep Monday and Tuesday nights because both of her arms ached. And save for a tearful talk with her mom, Suzie, on Monday night — "It was just like everything, the loss, how tired I was, and I let it all out," she said — Mowatt was the picture of toughness.
"A machine," said second baseman Chelsie Mesa.
Candrea got a preview of Mowatt's heart last year. That's when Mowatt's father, Larry, told the coach about his daughter's potential.
"Last year he said, 'You know what, hang in with her, and she'll give you some special moments,'" Candrea said.
After Wednesday's game, Candrea hugged Suzie Mowatt. He told her to thank her husband, who was home in California, for the advice.
"I can't remember seeing such a gritty performance by an athlete as this young lady gave us," Candrea said. "Everything was on her shoulders, and she did it."
Reprinted with permission from Arizona Daily Star.
---
First Choice Softball note: In the 2007 Women's College World Series, Mowatt lead the Arizona Wildcats, at that time, to their second consecutive and 8th overall national softball title. All-American, Mowatt was awarded two ESPY Awards during her Wildcat career; Best Female Athlete and Best Female College Athlete. She went on to graduate from Arizona in 2008. Mowatt went on to play professional softball, coached at California Baptist University and is currently (2017) the pitching coach at Ole Miss University.
Save
Save
Save
https://www.firstchoicesoftball.com/wp/wp-content/uploads/2017/02/TaryneMowatt.jpg
538
752
admin
http://www.firstchoicesoftball.com/wp/wp-content/uploads/2015/09/340x83fcsLogo.png
admin
2017-02-06 18:25:42
2021-09-03 14:58:39
Former Wildcat Taryne Mowatt Changed the Stereotype