---
Fastpitch Softball Tournament Submission Options
---
FEATURED Tournament Listing
Upgrade to a FEATURED TOURNAMENT listing- Includes multiple pages and premium positioning, information on your tournament, direct link to your website, use of a logo provided by you, all in a eye-catching creative custom banner. Facebook announcement to over 1400 viewers. Your tournament listing runs up to your tournament date, one tournament per listing ($8 listing fee)
Submit your FEATURED TOURNAMENT Listing
---
Tournament LOGO Listing
Upgrade to a TOURNAMENT LOGO listing- Includes information on your tournament, direct link to your website, use of a logo provided by you. Facebook announcement to over 1400 viewers. Your tournament listing runs up to your tournament date, one tournament per listing ($2.99 listing fee)
---
Tournament Free Listing
TOURNAMENT Free listing- Includes information on your tournament, direct link to your website, your tournament listing runs up to your tournament date, one tournament per listing (up to three free listings).
You may list up to three listings for FREE. If you have more than 3 tournaments you would like to list, contact us.
---
(see samples below)
---
All free and purchased listings will be reviewed by our staff and then posted to our website.
Each upgraded listing purchase is paid using PayPal. You do not have to sign up with PayPal, you can use a credit card.
---
All free and logo tournament listings are good through December 31st of the year posted.
All featured tournament listings are good up to the tournament date.
---
 Sample FEATURED Listing- $8
---
Sample LOGO Listing- $2.99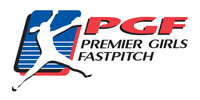 New Jersey/Pennsylvania PGF National Qualifier
June 10-11, 2017, girls fastpitch, 12u, 14u, 16u, 18u, PGF national qualifier, recruiting showcase, tournament info, Martinsville, Bridgewater, Raritan, NJ and Newtown, PA
---
*If you don't select a FEATURED LISTING or a LOGO LISTING, your free listing will be similar to the one shown below.
---
Sample FREE Listing-

Zoom Into June Invitational
June 5-7, 2015, girls fastpitch, 14u-18u open, college recruiting, tournament info, Hemet, CA
---
*Denotes required information. We strive to list quality tournaments on First Choice Softball.com and reserve the right to post information or tournaments at our discretion.**We respect your privacy, therefore your email information will never be shared or sold. We reserve the right to not list or post supplied information if deemed unrelated or not appropriate.
---